The Leon H. Charney School of Marine Sciences (CSMS), at the University of Haifa, is a unique initiative on a global scale, applying an interdisciplinary approach with highly professional standards. CSMS was the only Israeli program included by the 2020 Shanghai Academic Ranking of World Universities for Oceanography in the top 200 universities world-wide.
The Charney School offers international programs within two departments:
The programs are designed to train and equip students with the tools they need to succeed in their respective fields and to provide practical experience that will facilitate success in a highly competitive global market.
Here you can find all the information for international students at the University of Haifa: https://uhaifa.org/welcome
Come join us! Start your journey toward becoming a marine scientist. Discover a world beneath the waves and make a difference!
Meet Vanessa from Peru!
Vane Bachmann is a current student of the MA in Marine Biology.
"One of the best decisions I have made is moving to Israel with my family to fulfill my dream of becoming a marine biologist veterinarian (I am a vet with a biologist heart). The tools this program is giving me are enriching my professional background and helping me to have a better understanding of the marine ecosystems and the organisms therein. I have been working in the Sea Turtle Rescue Center in Mikhmoret taking samples and processing them in the Morris Khan Marine Research Station in order to characterize the sea turtle microbiome."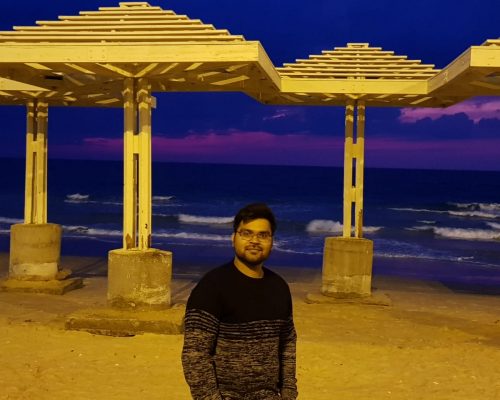 Meet Avinesh Kumar from India!
Avinesh Kumar is a current student of the MA in Marine Geosciences.
"When I took the opportunity of studying abroad, I wish to learn geosciences at the place with unique geological and paleoclimatological setting; and the scholarship programme of Dr. Moses Strauss Department of Marine Geosciences at the University of Haifa, Israel set me up for my studies and professional career.
The collaborative and creative research environment fostered at the University of Haifa, has helped me to acquire a practical set of knowledge with ample field trips and cruise which makes it a great place to do science, all in the midst of vibrant life and rich culture of the beautiful city: Haifa."
Meet Allaka Himabindu from India!
Allaka  is a current PhD student at the Marine Technologies Department. 
""I am a PhD student from India. I was studying at the Technion, where I met my current supervisor Prof. Morel Groper as a course lecturer and came to know about the Hatter Department of Marine Technologies . I was extremely impressed and decided to move here to start my master's thesis. The project I worked is titled "Motion Assessment of Planing Craft in Seaway (MAPCS)" focuses on developing a computation model for the prediction of the accelerations a planing craft encounters in seaways. The MAPCS model was validated with an Autonomous planing craft platform also developed as part of my master's studies.  During the start of my thesis on this topic, I was new to the field of Marine Engineering, but with all the support and guidance from my supervisor, I graduated with 'Summa cum laude'. The research work carried during my master's has a novel application to be implemented in the craft's autonomy algorithm to support unmanned, unattended surveys with improved seakeeping abilities. I considered this to be a challenging and novel contribution in this field of research so decided to continue my research career towards PhD also at the Department of Marine Technologies . I am extremely thankful and appreciate the infrastructure and education standards and great support the department, faculty and the University offers."